Landline text spam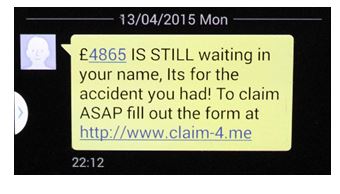 It is possible to send text messages to landline phones.
If you have a telephone handset that supports text messaging you'll get a ring on your phone to notify you that a text message has arrived, and you can then read the message on your phone's display screen.
If you have a standard telephone and receive a text message it is delivered as a recorded message call. When you answer the phone the message is 'read' to you by a recorded voice - this is sometimes called 'the friendly robot'.
To prevent you receiving text messages at an antisocial hour, BT, which runs one such service, imposes a standard curfew period between 11pm and 8am. Messages won't be delivered between these hours, but you can change this using interactive service on 0800 587 5252.
Legally, companies may only send you a text message if you have requested it (if you have opted in). If a company sends you an unsolicited marketing text message you can report them to Ofcom.
You should be wary of any text messages that you receive - whether on your landline or mobile phone. Text messages have been used to carry out a number of scams. It is best not to respond to a text message from an unfamiliar source.
trueCall can be used to block any unwanted landline text spam - it can be set to either accept or block text message calls.