trueCall Secure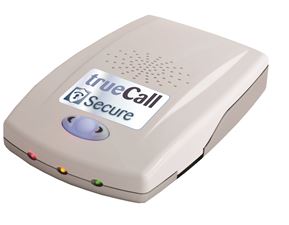 While the telephone is an essential lifeline, it can also bring problems for older people: mum or dad may be confused by telemarketing calls, agree to order products they don't need, or may be taken advantage of by unscrupulous sales people and scammers. trueCall Secure stops these callers in their tracks.
When a call arrives trueCall Secure checks the caller's number. If it is a trusted caller then the phone rings as normal, but trueCall Secure intercepts all other callers and plays them a message. For example:
"Hello, if you're a friend, family member or invited caller please press '1', if you are a cold caller please hang up and don't call again"
Most telemarketers hang up when they hear this message, and automated and silent calls won't get through.
If you want even more protection, trueCall Secure can completely block unrecognised callers - for example:-
"Hello, we only accept calls from friends and family members. If your call is important, please call Bob on 07752 XXX XXX or enter your code now."
This guarantees that whenever the phone rings it will be a trusted caller, while allowing other legitimate callers to get in touch via Bob.
Mum or dad will use their phone as normal, and may even forget that trueCall Secure is protecting them.


The unobtrusive trueCall Secure unit is quick and easy to install and can be remotely managed over the Internet so you can keep their trusted caller list up to date and monitor their call log from your home. It is fully configurable so you can choose how you want calls to be managed and can also block outgoing calls to certain numbers. With the optional Call Recorder memory card you can even record the calls. Online access is free for the first year after which there is an annual charge of £25. See example
here
.
Most importantly, trueCall Secure gives both you and your relative peace of mind.
Try out trueCall Care for yourself on our automated test lines
Dial 03330 115567 (standard rate call) to see how trueCall Secure treats unrecognised callers using the Filter option

Dial 03330 115870 to see how the more secure 'Trusted Callers Only' option works (the callers code is '99')
Requirements
Works with all telephones and networks

Works alongside pendant alarm system

To access all of trueCall Secure's features you will require the Caller-ID service from your network operator (this is often free)

You will need a power socket near the main telephone or base station