Recording Calls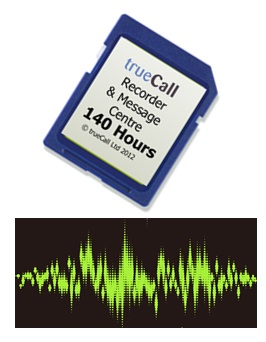 trueCall Home PA's 140 hour memory card allows you to make audio recordings of some or all of your phone calls. It also allows you to save any important voicemail messages.


trueCall Call Recorder is an SD Card - the same sort of memory card that is used in many digital cameras. It comes with trueCall Message Centre software that allows you to copy your call recordings and messages to your PC where you can store, annotate and manage them, and clear down the card to make space for more recordings.
Am I allowed to record my calls?
Requirements:
trueCall Message Centre software requires a PC running Windows XP, Vista, 7 or 8, or an Apple Mac running OSX with PC emulation such as Parallels. Your computer needs an SD card slot or an SD/USB adaptor.